Main Content Starts Here, tab to start navigating

Slide 1 of 7
Slide 2 of 7
Slide 3 of 7
Slide 4 of 7
Slide 5 of 7
Slide 6 of 7
Slide 7 of 7
Delfina Updates
We've recently embarked on an interior remodel in order to update a dining room that's been worn down by years of love. Unfortunately this means we will be closed for dining through the first few months of 2022. Don't worry, you can still order your favorite Delfina dishes to take home while we are under construction.
For takeout and delivery, visit our Pizzeria next door.
Thank You for all of your business and support throughout this past year, it's meant the world to us and our amazing team. We're excited to continue to serve you and can't wait to share our plans for Delfina 2.0.
Warmest Regards,
Annie and Craig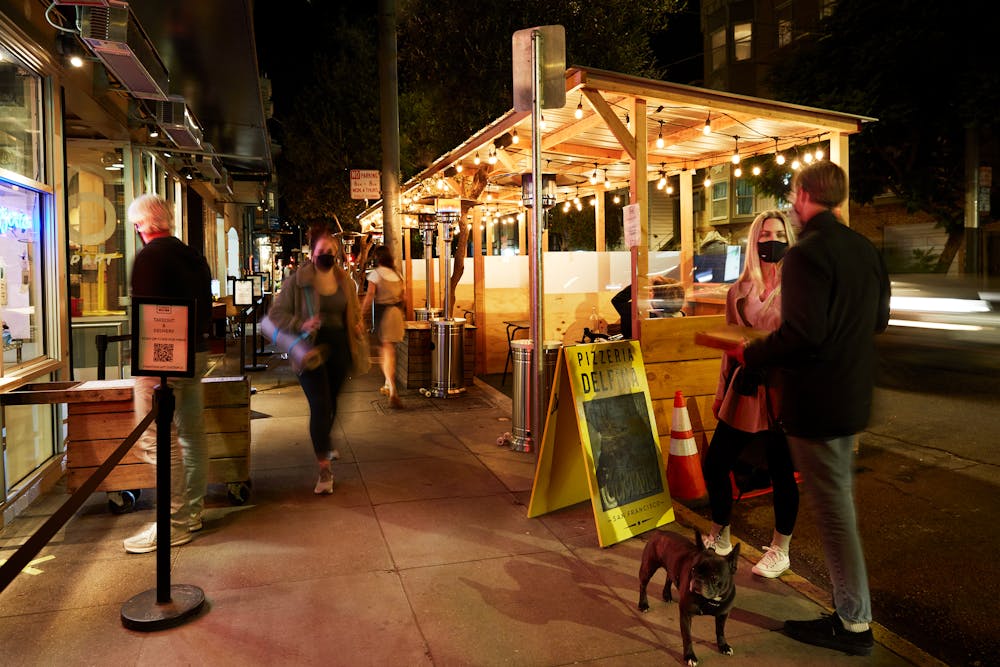 Spuntini
Warm Castelvetrano Olives | 8
Copa di Testa | 14
made from Brent Wolfe duroc pork
Galloni Thirty-Two Month Prosciutto & Fuyu Persimmon | 14
Antipasti
Insalata di Campo | 15
field greens, pancetta, walnuts, parmigiano, balsamico
Grilled Monterey Bay Calamari | 17
rice beans, Taggiasca olives, parsley oil
Porcini Fettunta | 21
nepitella oil
Baked Ricotta & Assagi Misti | 19
eggplant caponata, zucchini Napoletana, roasted gypsy peppers
House-Cured Gravlax & (3) Everything Latkes | 20
dill creme fraiche, Delfina's kosher pickles
Pasta fatta in casa
Gluten Free Pasta Available, Just Ask
Spaghetti Pomodoro | 20
plum tomatoes, garlic, extra virgin olive oil, pepperoncini
Tagliatelle Al Ragù Nostrano | 26
Bigoli in Salsa | 26
Monterey Bay sardines, chili
Red Kuri Tortelli | 25
brown butter, sage
Beef Cheek Agnolotti | 27
Secondi
Oxtails Stracotto | 38
risotto Milanese, bone marrow, gremolata
Brick Cooked Chicken | 36
2lb galleto, charred spring onion, potatoes schiacciate
Berkshire Porchetta | 31
Anson Mills polenta, watermelon mostarda
Contorni
Moroccan Spiced Carrots | 12
ricotta salata, salsa verde
Smothered Chard | 12
chili, garlic
PIZZA
Margherita | 16
tomato, fior di latte mozzarella, basil
Funghi | 20
hen of the woods mushrooms, panna, fontina, nepitella
Prosciutto Pie | 19
prosciutto di Parma, caciocavallo, mozzarella, panna, arugula
'Nduja Pie | 19
tomato, provolone, mozzarella, pickled onion, oregano
Dolci
Tiramisu | 11
in the old style
Gelato y Sorbetto | 11
pistachio gelato, strawberry sorbetto
Buttermilk Panna Cotta | 11
pomegranate
Affogato Corretto | 13
fior di latte gelato, moka pot espresso, almond cantucci, CioCiaro amaro
Cardamaro, Piemonte | 10
golden raisin, meyer lemon, honey suckle
Nonino | 11
caramel, orange peel, candied ginger
CioCiaro, Abruzzo | 10
rootbeer, tangerine, potpourri
Meletti, Le Marche | 10
candied ginger, dried mango, white pepper
Nardini, Veneto | 11
spearmint, rhubarb, chocolate malt ball
R. Jelinek Fernet, Czech Republic | 10
clove, cinnamon, almond biscotti
Braulio, Lombardia | 11
evergreen, fennel seed, honeycomb
Bresca Dorado, Sardegna | 13
salted plum, szechuan, peppercorn
Fernet-Branca, Lombardia | 10
menthol, chamomile, pine
Cocktails
Church | 14
gin, aperitivo, americano, lemon
Pompeloma | 14
tequila, mezcal, myrtle leaf amaro, grapefruit, pinch of salt
PD Negroni | 14
gin, bitter, amaro, vermouth
Golden Years | 14
bourbon, pear, dry vermouth, pastis, soda
Delfini | 14
gin, vermouth di radda, grapefruit bitters
Wine by the Glass
Sparkling - Nebbiolo Extra Brut Rose 12gl | 48btl
Malvira "Rive Gauche," Langhe
Rose - Aglianico 13gl | 52btl
Ryme, Heringer Vineyard, Clarksburg
White - Carricante 12gl | 48btl
Ciro Biondi "Outis," Etna 2018
White - Muller Thurgau 13gl | 52btl
Pojer e Sandri "Palai," Trentino-Alto Adige 2019
White - Chardonnay (1.5L) 14gl | 73btl
Scribe "for Delfina," Sonoma Coast
Red - Valdiguie Blend 15gl | 60btl
Cruse Wine Co. "Monkey Jacket," Sierra Foothills, 2019
Red - Sangiovese 13gl | 52btl
Casanuova Delle Cerbaie "Rivale," Toscana
Red - Montepulciano 16gl | 64btl
Cirelli, Abruzzo 2020
Beer
Woods 'Retro' Pilsner | 8
San Francisco - 12oz can
Harmonic Brewing Kolsch | 11
San Francisco - 16oz can
Laughing Monk Rotating IPA | 12
San Francisco - 16oz can
Woods Dry Cider | 12
San Francisco - 12oz can
Beverage
Agua de Piedra Sparkling Water (650ml) | 7
Sample Wine Menus (selections may vary)
Bubbles
Sorelle Bronca Prosecco di Valdobbiadene
"Particella 232" Extra Dry, Veneto NV
Ferghettina Franciacorta Brut
Lombardia NV
Pojer e Sandri Solaris Pet Nat "Zero Infinito" Val di Cembra
Trento NV
Contadi Castaldi Franciacorta Brut Rose
Lombardia NV
Luigi Giordano Nebbiolo Brut Nature Metodo Classico
Barbaresco, Piemonte 2015
Murgo Nerello Mascalese Brut Rose
Etna, Sicilia 2016
Cleto Chiarli Lambrusco di Sorbara "Vecchia Modena"
Emilia Romagna NV
Medici Ermete Lambrusco Salamino "Concerto"
Emilia Romagna 2017
Rose
Littorai Vin Gris of Pinot Noir
Sonoma Coast 2018
Scribe Pinot Noir Estate
Sonoma, 2018 (magnum)
Arnot Roberts Touriga Nacional "Luchsinger Vineyard"
Clear Lake 2017
KPOP Barbera Redwood Valley
Mendocino 2018
Ioppa Nebbiolo "Rusin" Colline Novaresi
Piemonte 2018
Uphold Aglianico/Carignane/Montepulciano "For Women"
California 2017
Corte Gardoni Chiaretto Bardolino
Veneto 2018
De Vescovi Uzlbach Teroldego Rotaliano "Kretzer"
Alto Adige 2017
Pra Soave "Otto"
Veneto 2018
Angelo Negro Arneis "Serra Lupini"
Roero, Piemonte 2018
Donna Paolina Fiano di Avellino
Campania 2018
Cirelli Trebbiano d'Abruzzo
Abruzzo 2017
Folk Machine Chenin Blanc "Merritt Island"
Clarksburg 2018
Unti Fiano Dry Creek Vineyard
2018
Laura Aschero Pigato Riviera Ligure di Ponente
Liguria 2017
Kuen Hof Gruner Veltliner
Eisacktaler, Alto Adige 2018
Garlider Muller Thurgau
Eisacktaler, Alto Adige 2016
I Favati Greco di Tufo "Terrantica"
Campania 2016
Cataldi Madonna Pecorino "Giulia"
Abruzzo 2017
Rocca del Principe Fiano di Avellino
Campania 2016
Ermes Pavese Prie Blanc de Morgex et de La Salle
Valle d'Aosta 2018
La Colombera Timorasso "Derthona" Colli Tortonesi
Piemonte 2015
Capolino Perlingieri Fiano "Nembo"
Campania 2015
Jolie Laide Melon de Bourgogne "Rodnick Farm Vineyard"
Forestville CA 2018
Scribe for Delfina Chardonnay
Sonoma 2017 (magnum)
Forlorn Hope Semillon "Nacre"
Carneros, Sonoma 2013
La Colombera Timorasso "Derthona" Colli Tortonesi
Piemonte 2015 (magnum)
La Sibilla Falanghina "Cruna de Lago"
Campi Flegrei, Campania 2017
Scribe Chardonnay "Skin Ferment"
Carneros, Sonoma 2016
Robert Sinskey Vineyards Pinot Blanc
Los Carneros, Napa Valley 2014 (half bottle)
Ryme Cellars Ribolla Gialla "Vare Vineyard"
Napa Valley 2015
Sandhi Chardonnay "Sanford & Benedict"
Sta. Rita Hills 2014 (magnum)
Idlewild White Blend "Flora & Fauna"
North Coast 2018
Bellavista Chardonnay "Convento della Santissima Annunciata"
Lombardia 2010
Jolie Laide Pinot Gris
Forestville CA 2018
Ronco Severo Pinot Grigio Ramato
Venezia Giulia 2016
Tiberio Cerasuolo d'Abruzzo
Abruzzo 2017
Whitcraft Grenache "Stolpman Vineyard" Ballard Canyon
Santa Barbara 2016
Kurtatsch Schiava Grigia "Sonntaler"
Alto Adige 2017
Raft Sangiovese "Nessere Vineyards"
Butte County 2017
Franz Gojer St. Magdalener
Alto Adige 2018 (magnum)
Giovanni Montisci Cannonau di Sardegna "Barrosu"
Sardinia 2017
Day Zinfandel
Sonoma County 2016
Fratelli Alessandria Pelaverga Verduno
Piemonte 2017
Riecine Sangiovese Gaiole, Chianti
Toscana 2013
Failla Pinot Noir
Sonoma Coast 2018
Scribe St. Laurent "Ricci Vineyard"
Los Carneros, Sonoma, 2017
Tinessa Aglianico "Ognostro"
Basilicata 2015
COS Frappato/Nero d'Avola "Pithos" Vittoria
Sicilia 2016
Boscarelli Rosso di Montelpulciano "Prugnolo"
Toscana 2017
Forlorn Hope Trousseau Noir "O.D.B"
Calaveras County 2017
Luigi Giusti Lacrima di Morro d'Alba
Le Marche 2016
Girolamo Russo Nerello Mascalese "a Rina" Etna
Sicilia 2017
Peay Pinot Noir
Sonoma Coast 2017
de Fermo Montepulciano d'Abruzzo "Prologo"
Abruzzo 2015
Castello di Verduno Barbaresco
Piemonte 2016
Noussan Torrette Superieur
Valle d'Aosta 2015
Brovia Barolo "Garblet Sue" Castiglione Falletto
Piemonte 2012
Produttori del Barbaresco Barbaresco "Rio Sordo"
Piemonte 2013
Littorai Pinot Noir "Cerise"
Anderson Valley 2016
Stella di Campalto Brunello di Montalcino Riserva
Toscana 2011
Isole e Olena Chianti Classico
Toscana 2015 (half bottle)
Elvio Cogno Barolo "Bricco Pernice" Ravera
Piemonte 2012
Marchesi di Gresy Barbaresco "Martinenga"
Piemonte 2014 (half bottle)
Salicutti Rosso di Montalcino
Toscana 2016
Oddero Barolo "Rocche di Castiglione"
Piemonte 2012
Fratelli Alessandria Barolo
Piemonte 2014
G.D. Vajra Barolo Ravera
Piemonte 2014
Jelly Roll Syrah "Rim Rock"
San Luis Obispo 2014
Brea Cabernet Sauvignon "Margarita Vineyard"
Paso Robles 2017
Arnot Roberts Syrah "Clary Ranch"
Sonoma Coast 2017
Foradori Teroldego "Granato" Dolimiti
Trentino 2015
Torre dei Beati Montepulciano d'Abruzzo "Cocciapazza"
Abruzzo 2016
Castellin' Villa Chianti Classico Riserva Castelnuovo Berardenga
Toscana 1995
Conterno Fantino Barolo "Vigna del Gris" Monforte d'Alba
Piemonte 2004
Emidio Pepe Montepulciano d' Abruzzo
Abruzzo 2000
Cappellano Barolo "Pie Rupestris" Serralunga d'Alba
Piemonte 2007
Oddero Barolo "Vignarionda" Riserva
Piemonte 2008
Roagna Barbaresco "Paje" Vecchia Vigne
Piemonte 2007
M. Marengo Barolo "Vecchia Vigna Delle Brunate"
La Morra, Piemonte 2006
Castello di Ama Chianti Classico Gran Selezione "Bellavista"
Gaiole, Toscana 2004 (magnum)
Proprieta Sperino
Lessona, Piemonte 2009
Oddero Barolo "Vigna Mondoca"
Bussia, Riserva, Piemonte 2011
Paolo Bea Sagrantino di Montefalco "Pagliaro"
Umbria 2004 (magnum)
Hobo Aglianico "Rockpile Vineyard"
Sonoma County, CA 2016 (magnum)
A 6% surcharge will be added to all checks to help comply with SF employer mandates.
Work with us
We would love for you to join our team here at Delfina SF.